The Star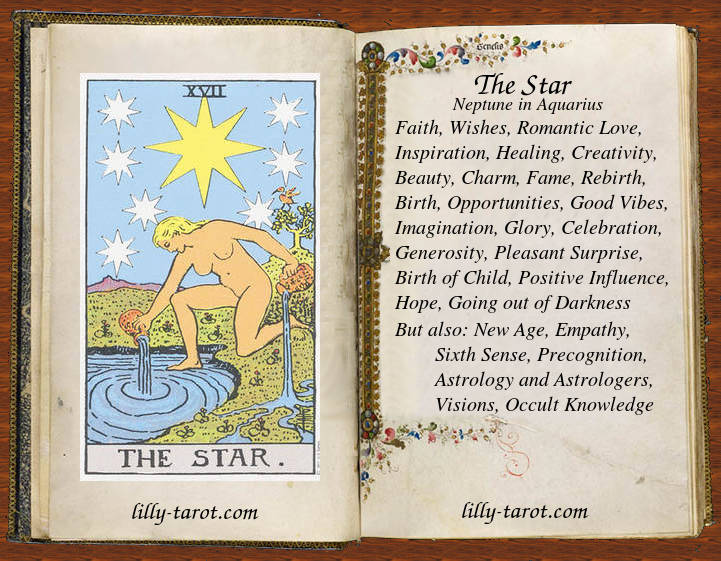 The seventeenth Major Arcana, The Star, is one of most positive cards. Its influences are clear, pure, soft and gentle. It signals positive influences and uplifting energy but in very gentle way. It's not like shaking energy rise but rather like renewing and rebirth. It brings optimism and strong beliefs, the quiet assurance and confidence that we are on the right path.
On a personal level The Star signifies width of spirit without limitations, generosity, positive transformation, open heart, faith, wishes, idealism, good vibrations and so on. Faith in life, in people, faith that good luck is at your side and your wishes will come true.
This card refers to great creativity which sometimes seems heavenly. Imagination and visions are vivid. It brings great inspiration and potential for remarkable works in painting and poetry. Inspiration of The Star is impersonal but still quite in touch with wide audience. It awakes impressions which everyone holds in himself but is not in touch with them. So The Star is a card of great original artists, musicians, celebrities whose work leaves impression to people worldwide. Not to avoid scientists who brought humans life on higher level. Here are also humanitarians, charities and volunteers who care about children, animals, environmental protection and everyone who has utopistic visions for humanity and whole planet.
Sciences such astronomy, astrology, esoteric and occult science are also under The Star influences. If you are into magic, The Star with its mystical character, could be used as talisman for protection during occult work or for gaining desired result from magic operations.
Similar as Temperance, The Star also has healing effect and alchemical properties of transmutation. The difference is that with The Star the transmutation is more on a spiritual and mental level rather than basic, physical and material level. Let the Waters of life feed your thirst and breath from starry sky to refresh your spirit. Meditation on this card may breathe more life to your psychic abilities and your visions to become more vividly. Spend some time in the night for stargazing and wish upon a star. Be assured that your guides are with you and make your wish most sincerely. The most deep and sincerely wishes are coming true.