My Etsy shop is open now!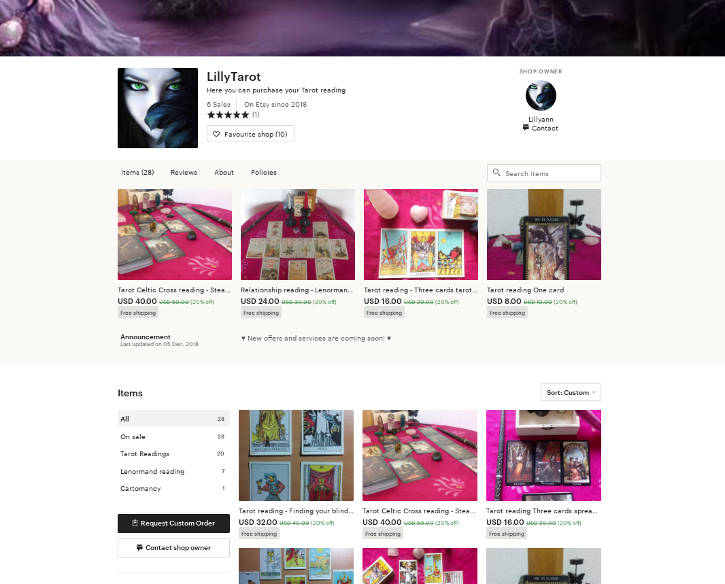 I am very excited to introduce you to my Etsy shop. It is now an official part of my website lilly-tarot.com and one of my workplaces at the moment. It is still a small shop but I am looking forward to growing it and adding a lot of interesting items. As you can guess, the items in my shop are Tarot readings. Besides Tarot readings, you can also find there a few Lenormand card readings and Cartomancy readings. The shop is not and won't be limited to Tarot only although the Tarot was the main reason behind opening the shop. There will be soon a lot of new readings with different types of cards and divination systems so that everyone can find something there what meets and fits their needs.
How did everything start?
The idea about the opening a virtual shop was born in early summer this year. At that time, basically I knew nothing about virtual shops and how do they work. I knew that I can offer services -readings, and what is my part of the job regarding readings. But I knew nothing about setting the shop on the website or using outer platforms for offering my services. Of course, I knew how to shop online. But E-bay and Amazon don't seem like places where someone would offer non-physical products and services. Some of the alternatives were Facebook page and Instagram. I was thinking over it and came across a few problems. First of all, I am not such a big fan of social networks. The second thing is that offering professional service via social networks and especially using them as the main medium for such purposes seems unprofessional. At least to me. Third, this whole hype nowadays regarding social networks is throwing me off. It is true, I have profiles both on FB and IG and have an FB page, but honestly, those mediums become boring and time consuming to the point that I haven't visited IG for almost two months.
Then one day, everything clicked into the right place. What about Etsy? It finally looked like a good virtual place for offering services and non-physical products. Of course, there were things to learn and I am still learning about some tiny details how it all works. But after all, I am more than happy to have my shop opened.
What makes me so excited about my shop?
I really like how it looks. It looks clean and everything seems to be in the right place. Taking photos and curating them was fun. It looks both creative and professional at the same time. Having a virtual shop is a quite personal thing knowing that it is something YOURS. The items, whether they are physical, non-physical products or services are yours and personal spirit is obvious. Your personality speaks through those items. This a beautiful feeling that guides you to be even better in your job. It makes you to constantly improve your shop, add interesting items and offer a greater value. Indeed, it is a long-term challenge.
What you can find at my shop?
All of my products are services. There are Tarot readings and more. At the moment you can find a few tarot spreads with several tarot decks. Tarot spreads that I offer at the moment are Celtic Cross, Personality Tree, Blind spot spread, Short personality spread, Three cards - past, present, future, Five cards spread, and One card reading. Tarot decks used are Rider-Waite, Steampunk, Golden Tarot, Tarot Familiars and Favole Tarot deck.
There is also one Cartomancy three card reading and Lenormand readings such as Relationship spread, Three card spread, Five card spread and Grand tableau (GT).
Every spread has a clear description of its purpose so that visitors can know what to expect and above all, what reading is suitable for them.
What is about to be offered?
I am going to include Thoth tarot readings and more spreads of both Tarot and Lenormand. My goal is to offer a choice, value and unique experience. I am also going to cover differnt topics related to spirituality and mundane matters. Some new decks and systems will be introduced as well. At the moment it is a secret what it all will be about. What you can expect is a surprise!
Future plans
I am going to keep my shop beautiful, updated and most of all unique and exciting. However, it requires more work and probably some changes regarding design and listings. There will be a lot of special offers and discounts and you will be the first to know about sales and coupon codes.
Click, like and share, it means a lot for new shops like mine and see you there! https://www.etsy.com/shop/LillyTarot