The High Priestess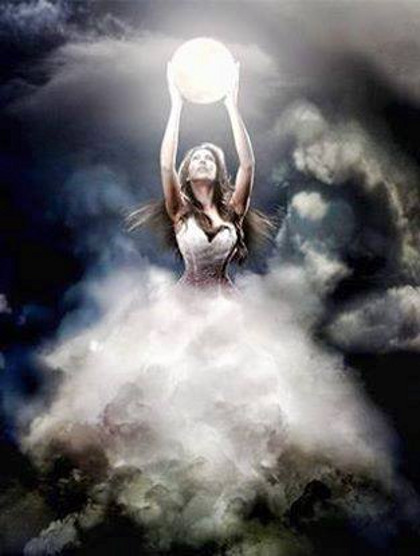 She is a secret and she keeps a secret. The High Priestess is the second major arcana in tarot decks and one of the most mysterious cards. To understand her and get closer to her many mysteries practitioner has to go step by step. Her veils are layered and every of numberless veils keeps something that patiently waits to be revealed. She is not in hurry and has all the time in the universe. She goes nowhere, others come to her. She doesn't need anyone, they need her. But, what are they looking for? For her or for her secrets to reveal? What is the secret, or does the secret even exists?
That's the secret too. Her still face tells nothing and everything. To get any closer to her the only way is to be like she is. The High Priestess will insensibly deny any kind of importunity because she is egoless and impersonal and totally uninterested in the outer world of triviality. She is totally devoted to her purpose as a guardian of unknown. As she is identified with her quest the only way to get any hint of her mystery is to identify yourself with her, to find her in your being, in your heart and soul, becoming fluid, ego-free, calm. Only then the door of the universe is opened to you.
"The most beautiful experience we can have is the mysterious. It is the fundamental emotion that stands at the cradle of true art and true science." - Albert Einstein, The World As I See It
The High Priestess is the highest and purest level of feminine principle: the most sensitive, the most beautiful, the most divine. She shows nothing but senses everything. She represents passive principle, the receptive spirit who absorbs impressions. In divination, she often points to passive state and inaction if it's about very practical thing. Also, it might be that the question may stay unrevealed for now, maybe it's still not the time for getting an answer. It might be that is too early or that the questioner isn't ready for it in some way or another. Some other divination meanings:
There is a secret about the question or the object of interest.
There is something trough what questioner have to go deep to be able to understand.
The answer or the solution is in questioner.
If the questioner is the woman The High Priestess represent her no matter what question is about because this is a very personal card.
If the questioner is a man she might be his passive and feminine side, his anima, significant woman in his life, wise woman of trust.
For both, man or woman, this card may suggest that asker should do on him/her inner self, research their own feelings and motives and better connect with intuitive self.
If the question is about the situation she may refer that there will be no action on surface or absence of action but there is something under and behind, hidden reasons or that everything stays in mind or just intentions and planning.
Challenge to find a balance between physical and spiritual.
It is not the time for action and moving forward.
Her appearing in the reading may suggest the fluctuations of emotions and moods, up and down, as she is connected to the Moon.
The cause of the problem is often hidden in past, memories, any context which has repeating, cyclic, character or even in subconsciousness as it is related to the Moon phases. To resolve the problem with it, it's needed to dive into yourself and deeply research your inner world.
As a highly mystical card, the High priestess may suggest you that you possess psychic abilities, inner wisdom and high intuition level. With your natural calming and healing energy, people may come to you to ask for advice, to open themselves and their secrets to you as they see you as a person of trust and confidence. This card suggests you cultivate your talents and use them for the right purpose.
On the other side, you may meet or visit wise women who might tell you something important for you. If you are a woman or girl may meet the older one who had the similar life experiences as you, or simply has a similar character to yours. Something like your older and wiser self, who helps you to release pain and overcome suffering. She may draw your attention to your bad habits, lifestyle or wrong path in life. As she is related to Moon she incorporates both sides, light and dark, and Trinity of a young girl, mother - woman and wise crone. She includes both the Moon goddess - mother of all and Hecate who is deep, dark, and way less tender and forgiving. Lilith is very well known to her and all her rebel, revenge, hate, extreme fillings and states of mind, but she had already overcome it. It is not the Moon and moon's fluctuations which have control over her, she has Moon under her feet and she always controls herself. This is where from her peace came from and where her strength lays.